Airgun Photographs
The following photos represent some of the history of the club, click one to open it up. More will be added as they become available and If anyone has any pictures that could loaned for copying, please let Bill Phelps know by emailing from the contact page. All photos will be scanned and returned to the owner.
Bpb Keen is presented with his Airgun medal from the 2016 Pembroke League by Kevin

Philip James won his Air Rifle division for Stroke Tondu and he was presented with his trophy by the Mayor of Bridgend.

Summer 2013 awards won by club members - Pembrokeshire Pistol league

Division 1 pistol - Angela Halliday
Division 3 Pistol - Dan Ford
2012/13 Awards won by club members shooting in the Middlesex winter Airgun leagues


Division 1 Rifle - Kerry Davies 1st - 187.3 average
Division 2 Rifle - Simon Jury 1st - 181.1 average
Division 3 Rifle - J Wooley 1st - 174.5 average
Division 7 Pistol - Hywel Jones 1st - 170.2 average
2011/12 Presentations of awards to those who won in the Middlesex winter Airgun leagues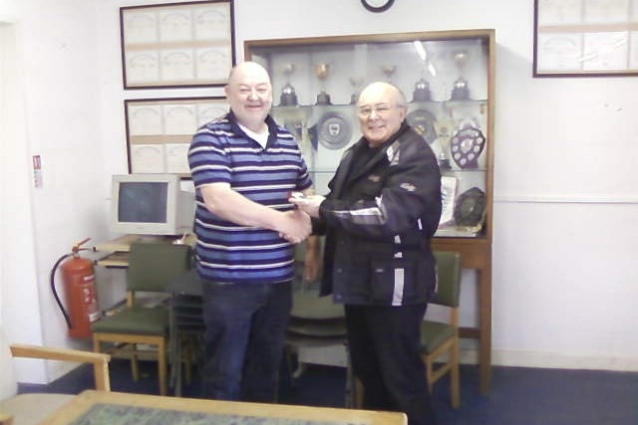 Left to right:
Hywel Jones winner Div 8 Pistol
Phil Williams winner Div 4 Rifle
Bill Phelps winner Div 6 Pistol
Some photographs of airgun shooting by the disabled group - both indoor and outdoor